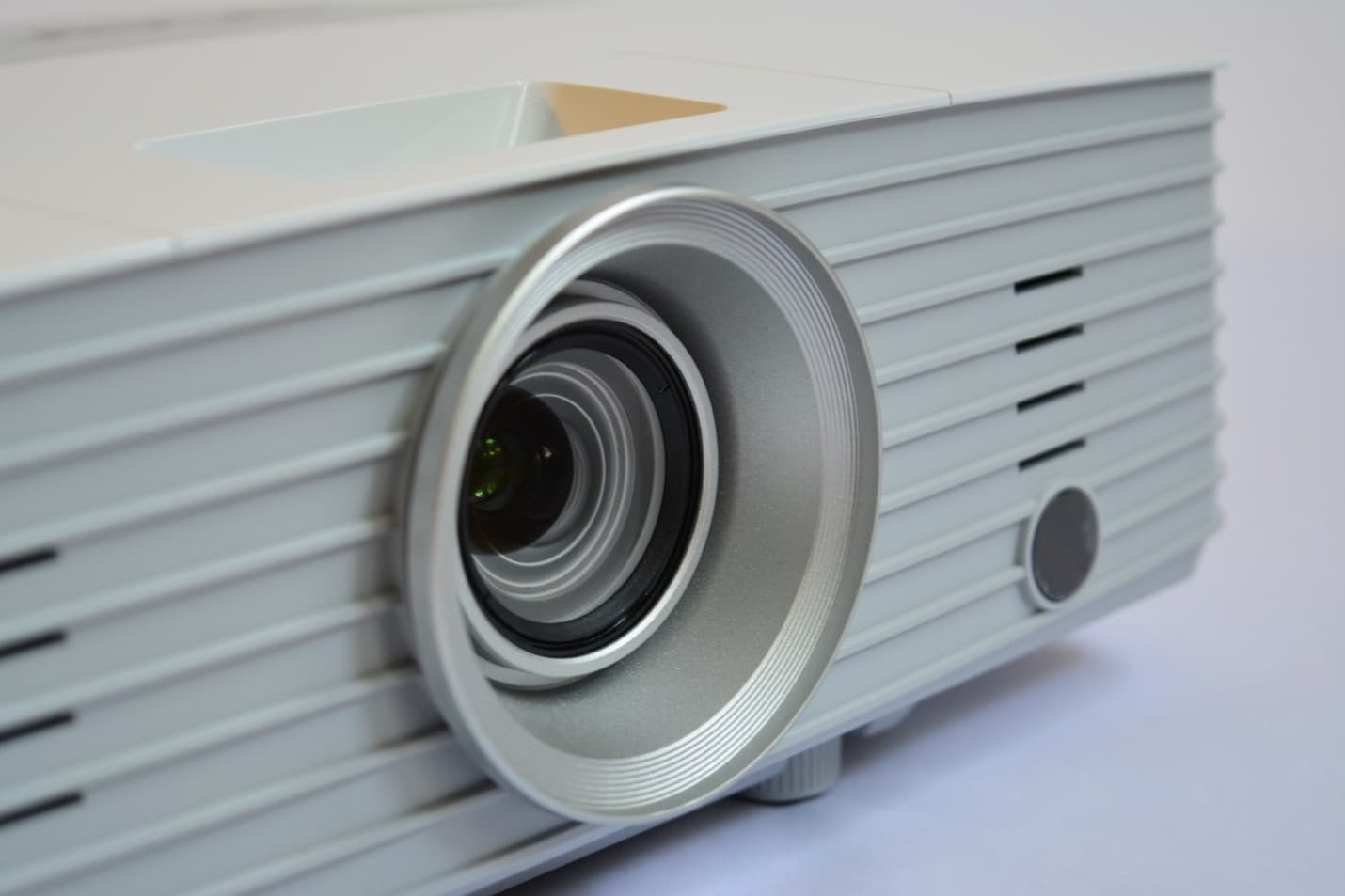 It can be daunting to figure out where to begin when you want to choose the right projection system for your needs. There are so many options available in the market from traditional lamp-based LCD systems to modern laser technology – if you're not quite sure where to start, we're here to give you a comprehensive overview of the options you have so you can make the right choice!
Lamp-Based Projectors
1.  LCD Projectors
Liquid crystal display (LCD) projectors work by projecting light through a lamp onto a mirror that breaks it into the three primary colors of red, green, and blue. These colors pass through separate prisms and converge through another prism in order to emerge as a projection on your screen.
These types of projectors have been around for a long time but despite the availability of newer technologies, they still manage to be a popular choice due to their price point and ease-of-use.
2.  DLP Projectors
Digital Light Processing (DLP) projectors use something referred to as micro-electro-mechanical technology. This uses chipsets and a digital micro-mirror device to coordinate with light sources in order to reflect digital images onto your screens.
This is the future of projection technology and promises a longer lifespan, faster performance, and enhanced durability.  However, the quality of the images depends on the type of the DLP projector you use i.e. whether you use, such as single-chip projectors or 3-chip projectors.
Lamp-Free Projectors
Once you know the different types of PA systems that are available, you must consider the benefits of purchasing a system. Regardless of the system that you choose, there will be numerous advantages.
1.  Laser Projectors
A laser projector predictably uses laser beams on a screen to create images. It can have a single laser for one color projection or multiple lasers for red, green, and blue in order to obtain full-color projection.
These projectors offer brighter images with sharper colors and generally require less maintenance than most other types of projectors. 
2.  LED Projectors
Light Emitting Diode (LED) projectors use an LED light source instead of a traditional lamp in order to project images. The technology is being used in a number of products including expensive commercial projectors. However, this is most notably emerging in portable Pico projectors. These handheld projectors are used to connect and project images and videos from devices such as smartphones, cameras, and tablets.
The most significant advantage of this technology is the portability it allows to the user. In addition to this, they require little to no maintenance and are easy to use.
Lamp VS Lamp-Free: Which One is Better?
There is no definitive answer to the question of which one is better. It all comes down to what you prefer in a projection system and the money you are willing to spend.
Advantages of Buying Lamp Projectors
Less Costly: Lamp projectors will be easier on the pocket as compared to most other options. The price of replacing the lamp has gone down about $100-$500. So if you're on the hunt for a projector that will be pocket-friendly, this is your best bet.
Bright Images: Lamp projectors generally produce a brighter image thanks to the lamp that is part of the projector. This means that lamp projection systems will be better at handling lots of external ambient lighting while still maintaining the brightness of images.
High-Quality Detail: While the quality will vary, based on the specific type of projector, lamp projectors generally have sharper displays with more detail.
High Color Saturation: Lamp projectors have a higher color saturation which makes the images appear overall brighter and more vibrant.
Drawbacks of Buying Lamp Projectors
Short Life Span: LCD projectors will degrade over time and require more maintenance the more they are used.
Require Frequent Replacements: The lamps on an LCD projector wear out after consistent use and require frequent replacements every 2000 to 4000 hours of usage.
Frequent Filters Needed: LCD projectors are sensitive to heavy dust environments. If you are in a climate that has lots of dust, you will need to consistently clean and change the filters in your projectors every 500 Hours in order to increase the lifespan of your

projection system.

Less Contrast Ratio: Darker colors, especially black, are not as saturated on LCD projectors. They end up looking more gray than black so if you want a true tone display, this is not your best option.
Advantages of Buying Lamp-Free Projectors
Long Lifespan: These are durable projectors that can last much longer than a standard LCD projector and with much less maintenance. Laser light has a lifespan of about 20,000 hours which is far more than the lamps in LCD

projection systems

.

Better Response Time: Unlike lamp projectors, lamp-free versions do not require a cooling period after you turn them off. This allows you to enjoy a much better user experience.

   

Fewer Replacements and Cleaning Needed: Lamp-free projectors don't have filters that need frequent cleaning nor do they have lamps that need to be replaced. This means that you will have to spend less time ensuring they work smoothly.
Flexible Position: These projectors can be mounted in any position and work in both vertical and horizontal positions.
Better Color Contrast: These projectors generally have a better contrast ratio and display darker colors much better than LCD projectors.
Advantages of Buying Lamp-Free Projectors
Expensive: These

projection systems

can be more expensive than other options and are also expensive to repair due to the higher price points of the laser.

Lower Brightness: Lamp-free lasers are not ideal for places with lots of ambient light, due to the fact that they are limited in how bright they can go. However, due to recent technology, some lasers can produce over 12,000 lumens emerging on the scene.
Understanding Applications of Your Projector
Having a projection system isn't enough. You will want to make sure that when you display content on your screen/wall, you are able to clearly see everything that is displayed there from the text to images, audiovisuals, and graphs.
In order to maximize your viewing experience, consider the following questions.
Who is Your Audience?
Is your projector going to be used in a school setting, a business setting, or in your home? Will you be using it to display texts and complicated presentations or is it going to play a role in the family movie night screenings?
Based on the use you want out of your projector, you will need to determine the appropriate screen size. Formerly, the Infocomm standard or the 4-6-8 rule was used to determine the ideal display size for AV systems.  Calculating this involved dividing the distance of the screen from the furthest viewer by either 6 or 4 depending on the clarity required.
As projector technology got better, the standard was updated to take into account other factors to ensure that the viewing experience on projectors is as high quality as possible. The new formula is more scalable and easier to use than the previous one and allows you to calculate the ideal screen size for optimal viewing.
What's the Space Like?
Determining the surrounding conditions and environment is another important aspect of deciding which projector is right for you. 
Lighting: 

Does the room have a lot of ambient lighting? Or can you control the level of light? If there is a lot of lighting, then you will need projectors that can provide you with brighter images such as a laser projector or LCD projector.

Noise Concerns: 

Some projectors are louder than the others when it comes to using them. So if you're looking for something that can run silently, an LCD or LED projector will be a better choice than, say, a DLP projector which makes significantly more noise.

Placement of Projector: 

Where will you place your projector? Do you want something portable to hold in your hand? Do you want to place it on a surface or mount it on a wall/ceiling?

Some varieties are more flexible in this regards as opposed to others. For example, if you're using a DLP or laser projector, you will be able to mount it in a number of different ways with ease as opposed to an LCD projector which will need to remain stationary.
Who Will Maintain the System?
The projector you choose will ultimately serve a similar purpose – how it performs for you depends not only on the features it comes with but also on the condition you keep it in. For this reason, maintenance of your projection system is vastly important.
Lamp-Based Maintenance: Lamp based projectors generally require more maintenance. If you choose to buy an LCD projector, you can greatly increase the longevity of your projector by ensuring that you are getting it regularly maintained by professionals who have relevant expertise and experience.

Professional AV experts will be able to ensure that your filters are not clogged and leading to any overheating issues that can damage the quality of the image. In addition to this, you will need to get your unit cleaned and your lamps changed every so often to keep your projector running in its best condition.

Lamp-Free Maintenance, filter (if any), unit cleaning:  

Lamp-free projectors will require much less maintenance but this doesn't mean it will require no attention at all. You will still need to get your unit cleaned to ensure there is no build-up of dust or grime. And if you are using a projector that has a filter, it will eventually need to be replaced from time to time.
Other Things to Consider
Cost to Operate
Naturally, you'll want to get the best return on investment (ROI) of the projector you choose. The biggest factor in determining this – apart from the quality of the projection, of course – is the cost of operating your unit.
While LCD projectors may give bright images with greater detail, they are also expensive to own. In addition to this, their user experience is stunted with delayed response time and they require plenty of maintenance.
On the other side, laser-based lamp-free projectors do not require as much maintenance and can last much longer than LCD projectors. However, in case these projectors require any repairs to their lasers, they can end up being more costly than LCD projector repairs due to the higher price of lasers.
When it comes down to deciding which projector gives you higher ROI, you'll want to consider which one is going to last you longer not only in terms of how frequently you need to maintain it but also based on how many hours a day you can use it.
While lamp-free projectors can give you up to 200,000-hour life, they will be more costly to replace and don't always have filters.
Enhancements
HDBT Cables: HDBT cables may allow you to use a single cable for video and control, making the task of using your projectors much easier and simpler.
Wireless Presentation Capabilities: If you're using your projectors in an educational or business setting, having the ability to operate the projector wirelessly is a huge plus point and can be a factor to consider when making your choice.
Why Hugh's?
Choosing the right projector can indeed be a tricky decision to make, especially because you want it to be a valuable investment that can meet your requirements.
You don't need to wait for when you need repairs or maintenance to contact professionals, Hugh's Innovative AV Solutions can help provide the support you need from the moment you decide to purchase a projection system all the way through to regular maintenance. We've been experts in the AV industry for over 60 years and have a team of dedicated professionals who can assess your needs and provide relevant guidance so you can make the correct choices. We know that a faulty projector can get in the way of important business which is why we value speed as well as quality when it comes to maintenance.
When you come to us for help, we make sure to have same-day priority response for clients and guarantee that we'll help get your systems up and running as soon as possible so you don't have to waste any precious time!