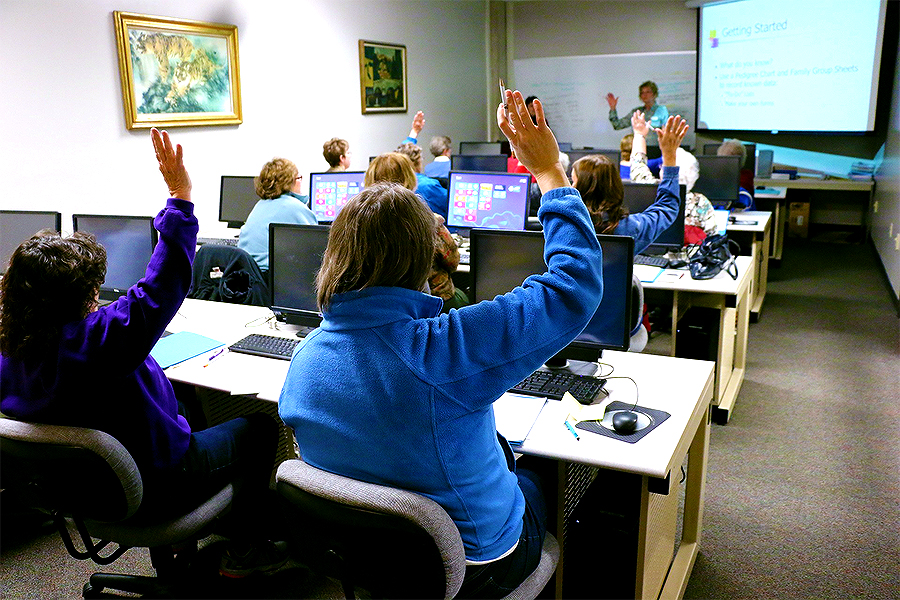 Our lives have benefited from AV technology in many ways. From being able to stream movies from the comfort of our home to virtual assistants reacting to our beck and call. We embrace technology because it enhances our experience.
How does this translate to higher education? How can AV technology benefit the instructor, student or even the institution? That is the question, a famous quote exclaims. In the following post we will explore how AV in higher education benefits everyone from each perspective.
The Instructor's Perspective
The goal of instructors is to portray knowledge to an enthralled, yet easily distracted student body. In this "always connected" era, keeping the attention and interest of the student is increasingly more challenging.  The more we engage the student in the process, the more knowledge is imparted.
To mitigate this, colleges and universities are using AV technology to create "smart classrooms". Smart classrooms employ aspects of video, audio and collaboration that, for the instructor, can create new and innovative ways to convey course material to the students.
Using large format projection or direct view displays, information is easily shared to the entire room. Introduce functionality like a touch screen display or interactive white-board, and the possibilities expand further.
Other technology that can help bring the student into the conversation are voting/polling systems. These systems are popular in some applications because they allow for active interaction between the students and instructor and directly correlate to increased participation.
The Student's Perspective
From the student's perspective, they need continuous engagement. The average person between the ages of 18 to 35 interacts with their smartphone about 150 times a day. The same study by Qualtrics and Accel also discovered that the people in this age group generally have an overall healthy relationship with technology and prefer digital communication.
Leveraging this knowledge is paramount in today's teaching environment. We must meet them in the middle and then guide them to the finish line. AV technology in the classroom accomplishes this by creating immersive and dynamic spaces to learn and collaborate.
No longer is the instructor tasked competing with the student's propensity to stare at their devices. They can now integrate these devices as part of the interaction between the student and instructor by using technology like screen sharing appliances or social media interaction.
The Institution's Perspective
The perspective of the institution is two-fold, value and desirability. Firstly, increasing attendance at your school or university is highly important to the institutions bottom line. Attracting new students and faculty to your school might take more than provenance or history. Both a student and an instructor looking for a school to attend or work at want to know that the institution willfully invests in its future. A college that still rolls an over-head transparency projector into a classroom as a primary display device is probably not going to attract new students or talent. One that has invested in cutting edge AV technology is far more attractive because it shows value and a quantifiable investment in the people that work and learn there.
Secondly, desirability is a factor that must be considered. Institutions on the cutting edge are always looking on how to increase their edge over the competition. For some colleges and universities, high architecture along with the latest in AV technology go hand in hand. The Bridge for Laboratory Sciences at Vassar College in Poughkeepsie NY is perfect example of this. They built a new science building to meet the needs of their scientific curriculum then equipped it with AV technology to enhance the student instructor interaction.
Why Hugh's?
AV technology is everywhere. In the classroom it serves to enhance, simplify and create new methods for instructors to interface with students. For students, it keeps them involved and engaged. For the institution it provides attractive options to consider for potential students and faculty. From these three perspectives we can see the benefits of AV in higher-education.
At Hugh's, our team of experts will provide you with your screen's consultation, installation, and maintenance. Additionally, they can create custom content for your digital signs to help you communicate your message effectively to the intended audience.