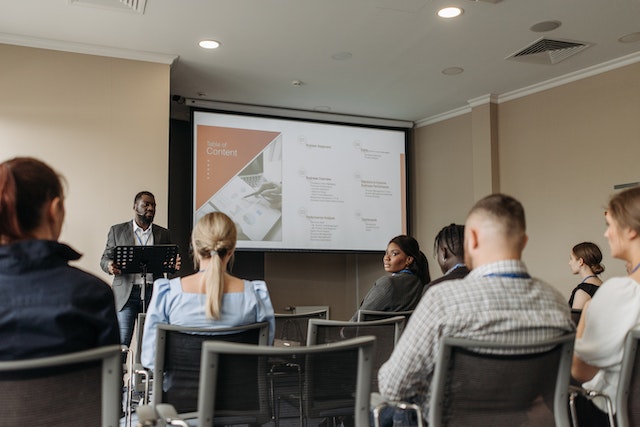 AV system stands for audio visual, more commonly known as an audio video system. In the simplest of terms, it is any system that incorporates an audio and a visual component. Most of the basic systems that we are familiar with today are some forms of audio video systems. They exist in everywhere in our modern life. We see them in small packages such as the smartphone in our pocket, all the way up to a complex system used at a rock concert, or the video conferencing system used by a Fortune 500 company.  
Some popular examples of audio video systems are:
| Businesses | Education | Home |
| --- | --- | --- |
| Video Conference System | Smart Whiteboards | Home Theatre |
| Security Camera System | Projector Systems | Security Camera |
| Projector System | Microphone System | Smart Home System |
| Digital Signage | Sound System | |
In short, an Audio video system is any system that conveys information across a visual or auditory medium.
Common Major Components
Power Supply: Some source of power, typically electrical in nature. This can either be a plug directly into a wall, a dedicated power strip, or a power supply unit that supplies enough electricity to run the sum total of all the devices on the system.
Switch: A networking device that allows for communication between different devices by creating a physical connection between the different components.
Microphone: A device that converts acoustic signals from soundwaves to electric signals that we perceive as sound.
Amplifier: A device that increases volume control by altering the strength of certain electric signals that can then be sent over different distances.
Speakers: Devices that take electrical signals and turn them into sound waves to produce audible sound for listeners.
Video camera: Takes live photos at multiple frames per second which are transmitted back as electrical signals. When played back on a screen, these images are played in succession at a specific speed to give the appearance of motion.
Screen/Monitor: A device that takes electrical signals and transmits those signals to a display that reproduces an image.
By themselves, these devices don't do much. However, when they are combined to form an audio video system, they can do many different things: from replicating a visual image and displaying it on a screen to playing a song from your favorite musical artist. Today, most signals we capture are turned into digital signals and sent to some sort of processing unit for integration or modification. They are then transmitted to output devices, such as speakers and screens, for consumption by the user or audience.
Considerations:
It is important to take some things into consideration when creating or using an audio video system.
Who is your audience?
One of the first things to consider is the audience, or who will be using these devices. This is an important consideration; for instance, a crowd at a large rock concert venue will want loud, clear audio whereas in an office setting, a conference call set at too loud of a volume may cause some to recoil.
What information are you trying to convey?
Are you presenting with video, showing students a painting from the Renaissance Era, playing music over a loud speaker, or helping a presenter give a rousing Ted talk? The type of information being conveyed matters and will influence the way in which it will be perceived by listeners.
What is the best method to convey the information?
After figuring out what you are trying to convey; it must be considered how that information will be conveyed. Is the information visually-based, and will best be perceived through pictures or video? Or, is the information auditory-based, such as speech-written text? It is likely that your information will require some combination of these methods of communication.
Where do I need to send this information?
Finally, one of the main considerations is where the information will be sent. Will it be sent to students who are sitting in a classroom? Are you streaming your favorite movie to my TV in the other room? Or, are you sending a presentation to clients on another continent? In any case, this will help determine the type of audio video system required and the specific components needed to achieve your desired goal.
What devices and components am I going to need?
Now that you know what is being communicated and the way it will be transmitted, it is time to build your audio video system. This includes knowing the components and the devices that you are going to need to use. This likely includes doing some research to find the best components for your system within your budget. For instance, if the goal is to set up a video conference call across the world from an office, the materials required would include a microphone, video camera, switch and router with internet connectivity, and speakers. These materials will then be set up according to the instructions of each device.
This seems like a great deal of work, however, most of this is completed by an audiovisual professional who will help counsel you through the process.
Why Hire an AV Professional?
A great deal of work is involved in building an AV system. There are an overwhelming number of options and decisions to consider throughout the process and doing it on your own may seem impossible. Luckily, most of the process is completed by a Certified audio visual professional, who helps design and implement systems and counsel you through the process. An audio video technician will install the system in your desired location, further simplifying the process for you. If you are considering hiring an audio-visual technician for your audio-visual system, our team at Hugh's may be the right choice for you! To schedule a consultation, do not hesitate to contact us today.